Project Description
It's time to go beyond 'display = screen', and interactive 'surface = touchscreen'. Over 2 days, you will deep dive into ideating, iterating and creating –– covering digital fabrication techniques, prototyping, basic programming, and a whole lot of making.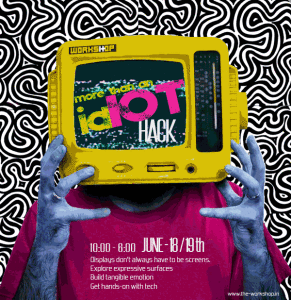 'More than an idIOT hack' is a rapid thinking, hands-on, collaborative experience structured to encourage you to reimagine what surfaces can be, do or interpret.
Let's breathe new life into traditional materials and a whole universe of boring things. Let's explore how we can achieve functionality, aesthetic, and personal interaction to create a whole new sense-driven, connected experience?
This interdisciplinary workshop is open to professionals, students and enthusiasts across industry.
What to expect?
Presentations by industry mentors
Basic tool training and safety
Idea generation and evaluation
Hands-on cluster builds
Tech Support and guidance
To know more call 9930749611 or drop a line at
make.do@the-workshop.in
Like where this is going?
Be there to take it further.
Register Now.
Limited Seats available.