Project Description
Learn the nuances of working with wood and using specialized joinery details and techniques.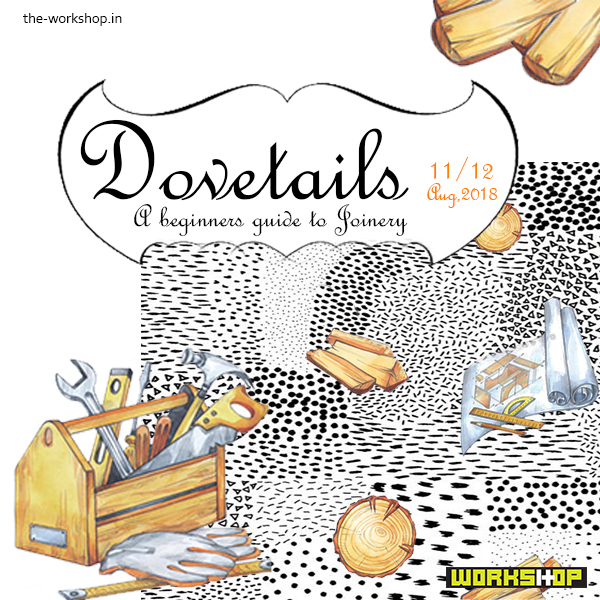 Don't miss this two-day immersive hands-on experience where you will learn multiple joinery techniques.
Participants will build out a small piece and implement the use of a crafted joinery technique.
EARLY BIRD SALES END ON THE 5TH OF AUGUST.
SO BOOK YOUR SEAT NOW!!!
Day 1 : 11th August, 2018
10:00 am to 5:00 pm
-General introduction
-Learn how to make precision wood markings
-Introduction to the different joinery techniques
-Talk about the pros and cons different cutting techniques
-Securely holding a work piece & jigs
-Introduction to the Jigsaw / router / biscuit jointer talk about safety precautions etc.
Day 2: 12th June, 2018
10:00 am to 5:00 pm
-Introduction to sanding for smoothing of internal curves
-How to effectively use an orbital sander
-Start preparing for finish
-Applying a finish
-Talk and hands on working with wood finishes.
About the Mentor:
Growing up in the North York Moors surrounded by forest Angus began working with wood from an early age. By the age of 12 he had set up a workshop in his mums garage, doing small scale commissions for friends and family. At the age of 16 he secured a formal apprenticeship with a highly respected company (Robert 'mouseman' Thompson) producing fully hand crafted furniture where every piece is distinguishable by a carved mouse hidden on the piece, unique to each individual craftsman.At the age of 18 he decided he needed to explore the industry further traveling to New Zealand he found himself working for an Italian boat builder and restorer. He stayed here for 2 months before hitchhiking the rest of the country exchanging work for food and accommodation at different workshops. He also spent some time in Christchurch after the earthquake where he carved parts of the royal theatre.
Angus graduated with an A1 in furniture design, making & restoration and a Higher National in Furniture Finishing Techniques from the Chippendale international school of furniture, Scotland, completing a 30 week intensive furniture course. He was a teacher at the school for 2 years teaching students from around the world, before coming out to India in 2017.
What you need:
– Fully covered boots/shoes
(no sandals, no chappals or any exposed footwear)
– No loose clothing / scarves / flowing clothes and sleeves
– all participants are requested to tie their hair up to avoid any accidents.
Notes:
– Limited Seats (12 seats available)
– To book a spot please click on the ticket link above or email make.do@the-workshop.in and/or call +91-9673686059, +91-9930749611; we cannot guarantee you a place unless you pre-pay! Account Details will be shared upon your RSVP confirmation.
– The Program Fee includes a comprehensive Safety Induction, Cost of Materials and Expert Mentoring.
EARLY BIRD SALES END ON THE 5TH OF AUGUST.
BOOK YOUR SEAT NOW