Project Description
Cut to the chase. Chop-Chop. Fix it.
Do all this and more at our next hardcore workshop: Joinery with Bram.
Get into the 'groove' with us as we visit the precise world of wooden joinery.
In this workshop we will explore creating basic frames using joinery, besides a look into the theory of joinery and a brief history of european joinery we will be focusing on oblique lap joints, dovetail lap joints and corner bridle joints.
The culmination of the workshop would be a group installation or 'assemblage' made using the joinery methods you learn.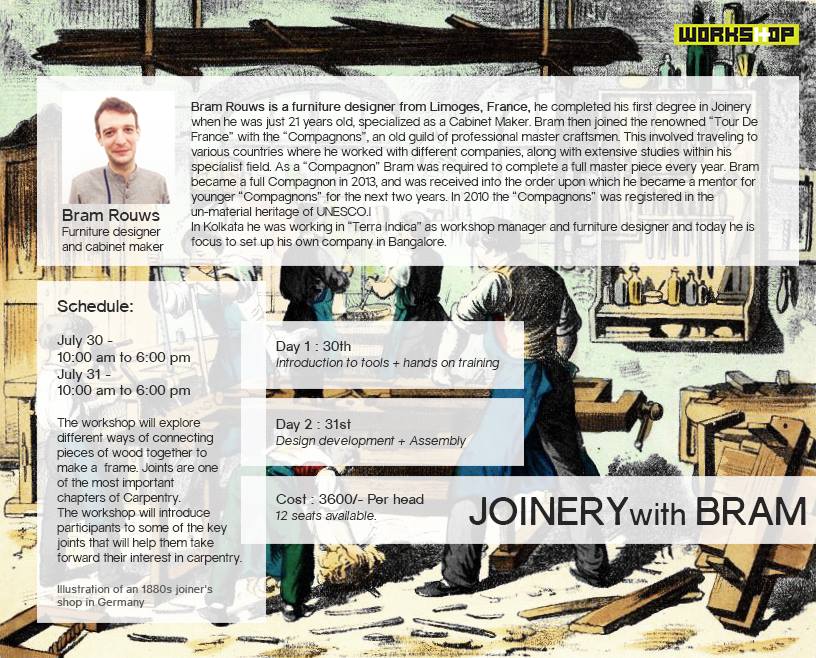 About the Mentor:
Bram Rouws is a furniture designer from Limoges, France, he completed his first degree in Joinery when he was just 21 years old, specialized as a Cabinet Maker. Bram then joined the renowned "Tour De France" with the "Compagnons", an old guild of professional master craftsmen. This involved traveling to various countries where he worked with different companies, along with extensive studies within his specialist field. As a "Compagnon" Bram was required to complete a full master piece every year. Bram became a full Compagnon in 2013, and was received into the order upon which he became a mentor for younger "Compagnons" for the next two years. In 2010 the "Compagnons" was registered in the un-material heritage of UNESCO.
This 9 years of Tour de France permitted him to deeply explore his subject and discover different cities, countries and companies from where he learned his craft from experts as well as regular people.
In Kolkata he was working in ''Terra Indica'' as a workshop manager and furniture designer and today he is focused on setting up his own company in Bangalore.
What you will learn:
1. Wood: A short explanation about natural wood and man made board.
2. Joints: Introduction, general knowledge, European history of joints.
3. Decorticate 3 or more different joints.
4. Sketching and technical drawings of joints.
What you need:
Fully covered boots/shoes (no sandals, no chappals or any exposed footwear)
Notes:
– Limited Seats (only 12 available)
– To book a spot please click on the ticket link above or email make.do@the-workshop.in and/or call +91 8095219305, +91-9673686059, +91-9930749611; we cannot guarantee you a place unless you pre-pay! Account Details will be shared upon your RSVP confirmation.
– The Program Fee of INR 3600/- per head includes a comprehensive Safety Induction, Cost of Materials and Expert Mentoring